Daysy is an intelligent fertility tracker that lets you get to know your very own menstrual cycle.
Meet Daysy: Your modern ovulation predictor
Know your fertile status within seconds with Daysy!
Are you looking for a modern ovulation predictor that determines your fertile days and ovulation date quickly and simply? Then Daysy is just right for you! Based on your morning basal temperature, Daysy calculates with very high accuracy whether you are currently fertile and reliably determines when you are ovulating.
Daysy is easy to use: Just measure the basal temperature underneath your tongue with Daysy in the morning while you're still in bed. That takes 60 seconds maximum. After that, Daysy might still ask you to confirm that you currently have your period. And that's it. Daysy then immediately displays to you whether or not you will be fertile during the next 24 hours. The display is absolutely unambiguous and easy to understand. A green light means that you are not fertile, a red light means you are fertile and a blinking red light means that you are currently ovulating and are highly fertile.
Especially when you start using Daysy, you will be shown a yellow light on some days. The yellow light means that Daysy is still in its learning phase and needs to gather more information about your cycle. Simply treat yellow days like red days. If you want to get pregnant, you should have sex on yellow and red days. This way, you increase the likelihood of conceiving.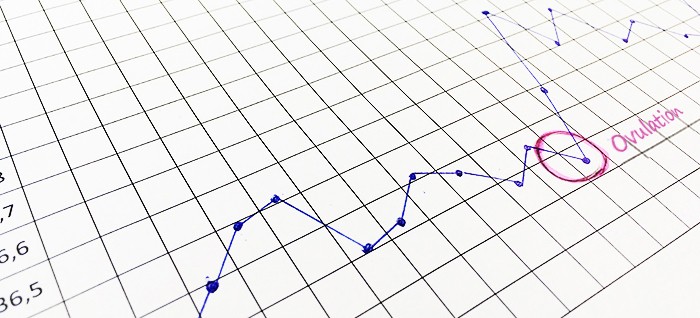 Ovulation predictor
Ovulation predictor with practical app for smartphones
Daysy is extra small and practical and has only the most necessary functions, so that you can use it safely and quickly, even while you are still half-asleep. If you want to receive more information about your cycle, just install Daysy's app on your smartphone and synchronise the ovulation predictor with your smartphone. This way you gain insight into your cycle calendar, your temperature curve and into the practical preview of your next cycle. If you want, you can also share these data with your gynaecologist or your partner.
The preview function of the app is especially helpful if you and your partner do not get to spend many nights together, if one of you, for instance, works late hours or travels frequently. In such cases, the right timing is particularly important for a pregnancy. With DaysyView's preview of next month's cycle, you can make sure to arrange for enough time for two during your fertile days. This way, you can increase your chances significantly, even if you and your partner have changing and irregular schedules.
Daysy: the ideal ovulation predictor for vacation and travel
You will be thrilled by Daysy's practical design and truly simply use. Its greatest strength is that its function is reduced to the essential while performing with high accuracy. You don't have to do anything other than take your morning temperature – Daysy does all the rest. And because Daysy is so small and handy, it is ideally suited for a lifestyle involving frequent travel. The ovulation predictor Daysy fits into every handbag and will quickly grow dear to you. With Daysy, you have everything you need for safe family planning right with you at all times.
incl. VAT and Shipping
-
Product available - Delivery time: 2-3 weeks*
Daysy is an intelligent fertility tracker that lets you get to know your very own menstrual cycle.