natana period underwear - Stay Safe-Set
natana is the period underwear with an easy-change-system.
natana is the menstrual underwear with an easy-change-system
You get briefs and matching reusable pads, which you can change and attach securely with the help of a special, very thin Velcro fastener.
The inserts/inlays are available in different thicknesses - with and without moisture-impermeable membrane, for heavy and for light days.
natana wants to make your period as comfortable as possible, in order for you to be carefree during your menstruation - without biocides and chemicals on your body and without leaving unnecessary waste in our world.
Because of their hormone-like effects, plastic or to be exact BPA and BPS affect womens' health stonger than mens'. Unfortunately, these substances are also absorbed through your skin and mucous membranes. Therefore, natana contributes to your health and to the protection of the environment.
The pesticide residues of conventionally grown cotton can also harm the female body. natana avoids this risk by using organic cotton.
Short supply chains are very important to us, but above all social coexistence and fair working conditions. That is why natana is produced in Germany, Austria and Bulgaria.

Stay Safe-Set
This set includes one pair of  briefs and four reusable pads made of organic cotton and a moisture repellent membrane.
The underpants are cut in normal waist height. At the leg cut and at the waistband it is designed with an elastic tape in a lace look. The tailoring offers you a comfortable fit without shifting.
Stay Safe set is ideal for on the go as the membrane reinforces the leakage protection.
This set includes:
 two light reusable pads made of organic cotton with a polyester membrane for lighter bleeding
 two strong reusable pads made of organic cotton with a polyester membrane for heavier bleeding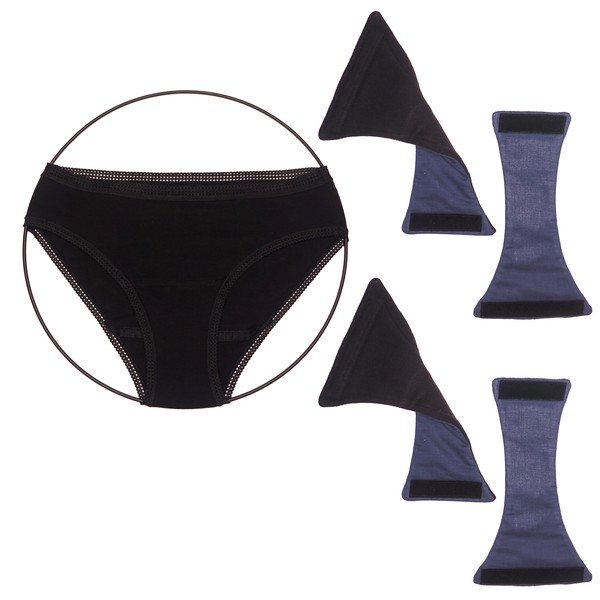 The inlays with moisture-impermeable membrane can be easily identified by the blue underside.
Material composition:
Slip:
96% organic cotton
4% elastane
Reusable pads with membrane:
main material: 100% organic cotton
lining: 100% organic cotton
membrane: 100% polyester with a polyurethane coating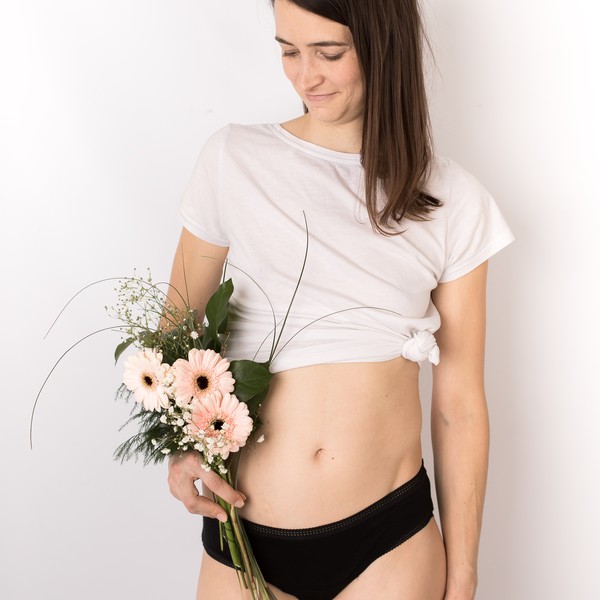 Washing instruction:
Please wash the slip at 40 degrees.
The pads can be washed at 60 degrees.
Here you will find more product information
incl. VAT and Shipping
-
Product available - Delivery time: 2-3 days*
The Set contains four inserts with moisture-impermeable membrane and is ideal for when you are on the go.